The Invention Of Sponge Mop—-Prevent Evaporation
The Sponge mop is a good cleaning tool for cleaning, because it's easy to use and low in price. However, the sponge head of the mop is easy to harden which is caused by the loss water.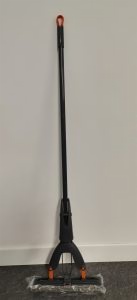 Therefore, you can find the manufacturer must encapsulate the sponge head in a plastic bag to preserve the moisture. However, most manufacturers are using a sealing bag to wrap the entire head of the mop. Although it can keep the cotton mop clean as a whole, it is easy to puncture the sealing bag during the installation of the mop. The sponge head in the sealed bag will still lose water, become dry and hard, and will bend and deform.
Then on this basis, we invented a rubber cotton mop with a sealed bag that is not easy to break but also can effectively prevent the sponge head from losing water(CN 201453181 U). It includes a pole, a handle, a pull wire, a water squeezing mechanism and a mop head. The squeezing mechanism includes a caliper seat, a pole and two squeezing plates. The upper end of the caliper seat is fixed on the mop rod. The lower end of the caliper seat is connected with the outer ends of the two squeezing plates through the pole, and a pull wire is connected with the inner ends of the two squeezing plates.
The feature of this design is that there are slots on the squeezing plate. The mop head part includes a plug connector, a sponge plate, a sponge head and a sealing bag. The sponge head is bonded to the bottom of the plate, and the sealing bag contains the sponge head and plate. The screw passes through the sealing bag to securely connect the insert joint with the plate. The upgraded sponge mop can protect the sponge head well, always keep it soft.